Melbourne's highest quality
Metal roof restoration.
YOU'LL BE PLEASANTLY SURPRISED
WITH OUR PRICES
ABOUT METAL ROOF RESTORATION
Colorbond roofing has been used as far back as 1966. While not immediately popular, by the 90's it was one of the go-to roofing materials. Now, with its low weight, clean lines and aesthetic appeal, it is arguably the most popular roofing choice for homeowners.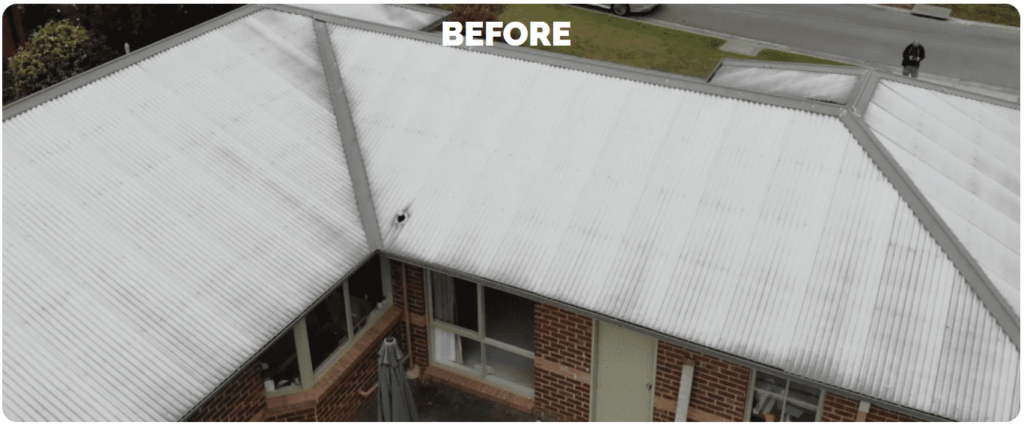 Being lighter than tiles also improves the thermal aspects of a steel roof at night. The lower mass means that it will cool down more rapidly than tiles so will not radiate as much heat into the home after the sun goes down. It does, however, get much hotter than tiles do during daylight hours. Surface temperatures on a steel roof can exceed 120 degrees Celsius on hot days. That's hot enough to cook on!
Metal roofs also begin to rust over time. They are typically coated with secondary steels that resist rust better and Colorbond also has a powder coating incorporated into it. These protective coatings wear off over the years however and rust then inevitably ensues. Once the roof begins to rust it will only survive for a few years before replacement becomes necessary.
Older Colorbond roofs, particularly those that were installed pre 2000, can fade and begin to look unsightly. Issues with a blue pigment in the late 80's and through the 90's has led to many blue and green roofs failing quite badly. Many also develop a striped appearance that detracts hugely from the aesthetics of the home.
The successful restoration of a steel roof is a highly specialised skill. Metal is not porous like timber or concrete tiles. Any coating will just sit on top of it, not penetrate in like other surfaces. The extreme heat fluctuations in steel also mean that expansion and contraction occurs much more frequently, and to a greater degree than in concrete tiles. Paint peels off as a result of this expansion. Many companies will not agree to restore a metal roof, and many that do, have not completely considered the complexities involved.
Thermaguard roof restoration have developed a unique roof restoration system that not only protects and preserves the beauty of your roof, it will also significantly decrease the internal temperatures of your home saving you thousands in energy bills. With over 30 years experience we know what works and what doesn't. We have perfected our techniques to the point that we can guarantee our metal roof restoration system for 10 years! Our claim? To provide you with a finished roof restoration system that is better than new!
GET YOUR OBLIGATION FREE QUOTE FROM MELBOURNE'S METAL RESTORATION SPECIALISTS
Below you will see our step by step guide on how to successfully restore a Metal roof.
All work on roofs requires physical edge protection to be erected by law. Falls from roofs are amongst the most common workplace injury. If our tradespeople don't feel safe, they also find it difficult to provide you with the high quality we demand. Prior to the commencement of any of our roofing projects, a full perimeter rail is erected around the roofline.
Roof screws often rust prematurely. If your Colorbond roof is over 20 years of age, it is possible that an incompatible steel was used in the screws. Old style galvanised screws react with Colorbond. Rust will occur and, as the screws fail, they will swell and irreparably damage the roof sheet. It is imperative that prior to restoration works the screws are carefully checked and rusted ones are replaced. Older galvanised roofs with nails securing the sheets should be fully refined using specialised roof screws prior to coating.
STEP THREE: HIGH PRESSURE CLEANING
Thorough cleaning is vital for successful steel roof restorations. Getting perfect contact between the applied products and the steel surface is crucial for a long-lasting finish. Dust and pollutants left behind are the number one reason for rapid failure, even when using sophisticated products. Thermal utilise commercial pressure cleaners that are capable of exerting in excess of 4,100 psi of pressure. This means that we can ensure a perfect clean without the use of 
cleaning agents or chemicals. Foreign chemicals can remain on the roofs surface and react with the subsequent membranes. They will also adversely affect your garden.
STEP FOUR: PRIMER APPLICATION
The primer coat is the first of our membranes to be applied. The surface of the steel is nonporous so the initial coat must have excellent adhesive qualities to ensure it binds itself to the steel surface. Our metal primers are enhanced with nanotechnology and additional polyvinyl acetates. The ultra-fine particles bond perfectly with the roofs surface ensuring no air is trapped under the coating. The cured product resembles a glasslike film similar to that on a glazed  
terra cotta tile or glazed pottery. Providing the application is even and consistent, and the subsequent membranes are applied after a suitable drying period, there is virtually no possibility of our roof membranes peeling. They won't, of course, last forever, but instead of peeling they will just gradually fade and oxidise. When the top coatings begin to oxidise, after around 10-15 years (you will know when this is happening because the colour will start to come away when you rub the surface), we recommend cleaning and top-coating the roof.
STEP FIVE: HIGH SOLIDS COLOUR COAT
Our first colour coat is a very thick high grade acrylic membrane. Most roofs are pitched. Applying standard paints to them will mean the the paint will run down the roof slope resulting in an uneven finish. Our first colour coat is very dense (in excess of 40% solids or around three times thicker than a normal paint) with added emulsifiers to help it coagulate. It applies very evenly and, because of the very low water percentage, drys very rapidly also. When applied by an expert applicator, the end result is virtually indistinguishable from a brand new roof.
STEP SIX: HEAT REFLECTIVE TOPCOAT
The most crucial component of our specialty restoration system is the infrared reflecting top coat. Engineered to reduce the surface temperature of your roof steel by as much as 40 degrees Celsius, this not only dramatically reduces internal temperatures in the home, but it also significantly reduces expansion and contraction. Because the difference in surface temperatures is vastly reduced, the coatings do not endure as much movement as traditional paints. This, along with our highly adhesive
nano primer, ensures that our membranes will never peel. A cross-linked polymer is utilised to ensure the membrane binds tighter on the surface which ultimately reduces dirt pickup and assists in self-cleaning. Nanotechnology is also used in our heat reflective coating which greatly enhances strength and durability.
Our metal roof restorations are much more than just a painted steel roof. The Specifically engineered compounds have been tailored to meet and exceed the harshest of Australian conditions. The combination of nano technology, molecular manipulation and infrared reflective pigments makes our coatings amongst the very best in the world today. Designed for durability and aesthetic enhancement, a steel roof restoration from Quality Roof Restoration will keep your home looking fantastic for many years.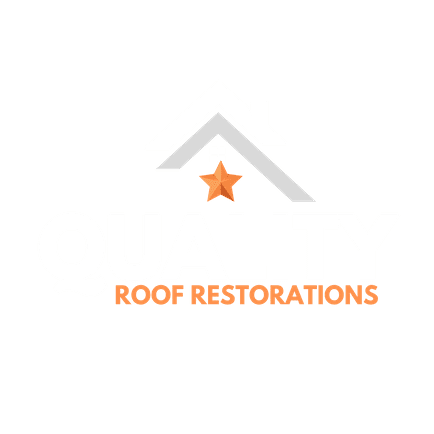 BOOK YOUR FREE ROOF INSPECTION
High quality roof restorations with our unique 4-coat heat reflective technology